Tuesday 9.15-12.15
9:30-10:30 ZEST!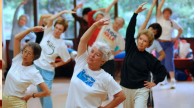 11:00-12:00 Chair Based Exercise

CLASS TYPES…
Chair Based Exercise
This Chair Based Exercise class is designed for those with less mobility but the desire to keep moving. During this class we will work on our Flexibility, Balance and Strength. Whilst it may be called 'chair based' we always encourage standing with a chair for support if required along with free-standing exercises.
This type of class has been developed to improve mobility, confidence and independence. All done to a background of quietly played great tunes, you may even find yourself singing along too!
Chair Based Exercise classes are £5.00 per class (50 mins)
ZEST!
It may sound like a cliché but if we don't move it, we might just lose it! These classes are made up of low impact-low intensity routines, designed to get you moving around to maintain good balance, co-ordination, flexibility and stamina.
As well as the moving to music routines, we use resistance bands, gym balls and light dumb bells for the strength section of the class. All done to a great playlist of music from the past few decades, you'll have trouble keeping still!
ZEST! classes are £7.00 per class (55 mins)
BEFORE YOU JOIN IN…
Look at zestforever.co.uk for more information or contact Julia on 07542 518470 or Julia@zestforever.co.uk